California Estate Planning Quiz
Discover Your Ideal Estate Plan: Take Our California Estate Planning Quiz Today
Are you uncertain about the future of your assets and loved ones?
Do you want to ensure that your hard-earned wealth is managed and distributed according to your wishes?
Estate planning is a crucial aspect of safeguarding your legacy, but with numerous options available, it can be challenging to determine the best strategy for your unique situation. That's where our Estate Planning Quiz comes in. By taking this comprehensive quiz, you'll gain valuable insight into the type of estate plan that best suits your needs and objectives.
Personalized Results: Our Estate Planning Quiz is tailored to your specific circumstances, factoring in your financial situation, family dynamics, and long-term goals. By answering a series of targeted questions, we'll provide you with a customized estate planning strategy designed to address your unique needs.

Comprehensive Analysis: The quiz delves deep into various aspects of estate planning, from wills and trusts to powers of attorney and healthcare directives. By considering all elements of a well-rounded estate plan, our quiz ensures that no stone is left unturned in securing your legacy.

Expert Guidance: Developed by a team of experienced estate planning attorneys, our quiz incorporates professional insights and industry best practices, providing you with reliable and authoritative recommendations.

Secure Your Family's Future: By identifying the most suitable estate plan for your circumstances, you'll be taking the necessary steps to protect your loved ones, minimize potential disputes, and ensure a smooth transfer of assets in the event of your passing or incapacitation.

Peace of Mind: The process of estate planning can be complex and overwhelming, but our Estate Planning Quiz simplifies the journey. With a clear understanding of the best path forward, you can confidently make informed decisions and enjoy the peace of mind that comes with knowing your affairs are in order.
It's a good idea for individuals and married couples to check their estate planning documents after they have children, purchase real property, or have any other type of major life changes. 
If you had an estate plan set up in the past, it may also be a good idea to take our estate planning quiz once every 3 to 5 years.
The answer is…. It depends…
It depends on the complexity of your life and assets. With that being said, most people are able to finish our Estate Planning quiz in 2 to 5 minutes. 
From there, if you want more information, you can reach out to one of our estate planning and probate attorneys for a free estate planning consultation.
Who should take our California EP Quiz?
Our quiz is perfect for anyone who does not have an estate plan in place AND for those who want to see if their current estate planning documents are up to date.
Even if you don't have assets or children, our estate planning quiz may still be worth taking.
Through estate planning, you can make your end of life decisions and appoint someone to carry out your health care wishes.
What will I learn from the EP Quiz?
Upon completion of your estate planning quiz, you will know whether you would benefit from setting up a trust, a will, or any other estate planning documents. Most importantly, is understanding whether or not your assets will be subject to probate.
Its an excellent starting point prior to talking to an experienced estate planning attorney.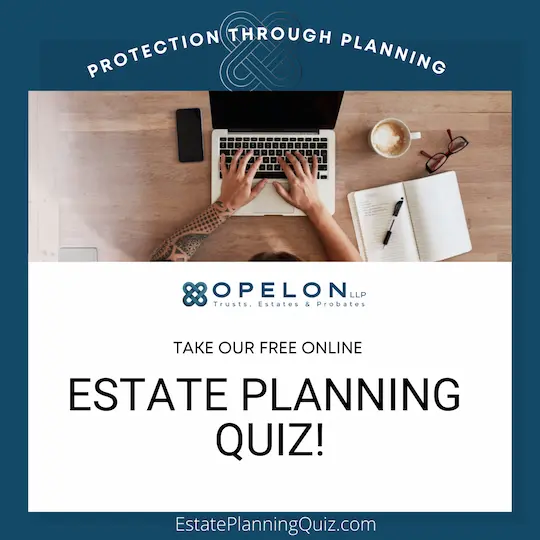 Don't Delay, Take our Quiz to See What Type of Estate Plan is Best for You Today!
You may have a lot of questions about estate planning, but you've come to the right place.
Our Estate Planning Quiz will help you figure out if it's time for an estate plan and give you some ideas on how to start one.
Have you taken our estate planning quiz yet? It only takes 10 minutes (or less) and could be life-changing!
Ready, set, go answer our estate planning quiz now.
About Opelon LLP
Opelon LLP's Trust Administration, Estate Planning and Probate Attorneys service clients all over the state of California. 
This estate planning quiz is not intended as legal advice and is for general information purposes only.
It does not create an attorney client relationship and any answers should be reviewed with a licensed attorney. If you would like to work with us please feel free to give us a call and schedule a free consultation.